As you may have noticed, Desktop Gadgets and Sidebar are missing in Windows since Windows 8 RTM. Microsoft has removed them in order to focus development on Windows 8 and promote the Tile-based so called Modern apps.
For all gadget fans who enjoyed and had fun with them, here is the revived version of Desktop Gadgets/Sidebar that is compatible with Windows 8 and Windows 8.1!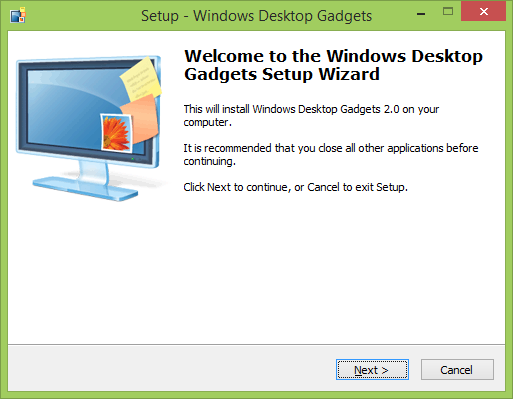 Download the Desktop gadgets installer
The most important features of this installation are:
it supports all possible Windows 8 languages,  so you will get gadgets and sidebar's interface with your native language!The installer is able to detect the required language automatically and install will it for Sidebar.
Wait for the installer to finish. You will see the familiar "Gadgets" window opened on the Desktop. It will restore all the genuine features like:
Do not forget to check out our gadgets gallery and pick some cool gadgets for your desktop!